Location:

West Chicago, IL
Client:

Prime, Tack & Seal Company
Carylon Operating Company:

National Industrial Maintenance
Services Performed:

 Dry Ice Blast Cleaning
Prime, Tack & Seal Company uses trucks to carry and spray asphalt mixture to repair asphalt and concrete surfaces. The asphalt mixture can build up on the nozzles of the truck, making it difficult to maintain.
Traditionally, PTS cleaned the trucks on a bi-annual basis with various chemicals and pressure washing equipment to remove the layers of build-up. This process was repetitive, time consuming and inefficient. The waste had to be specially disposed due to the hazardous chemicals, and it also exposed their employees to unnecessary chemicals.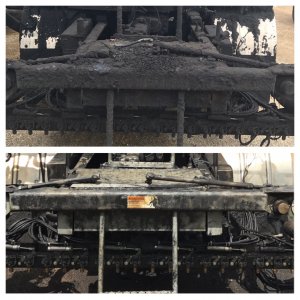 National Industrial Maintenance utilized their Dry Ice Blast Cleaning expertise to clean the trucks without damaging the surfaces or equipment. The combination of dry ice cleaning's kinetic energy and thermal effect breaks the connection between the dirt and surface, lifting away contaminants. Unlike blasting with other media, dry ice cleaning does not leave any secondary waste, because the dry ice particles sublimate upon impact – converting from solid to gas. Dry ice cleaning is safe and non-toxic, does not create downstream contamination and reduces or eliminates employee exposure to dangerous chemical cleaning agents.
National Industrial Maintenance cleans one truck per day for PTS – it previously took them one week to clean one truck. They clean 13 trucks in total for PTS on a bi-annual basis.